Annual Cleaning Maintenance Agreement From Profusion Pressure Washing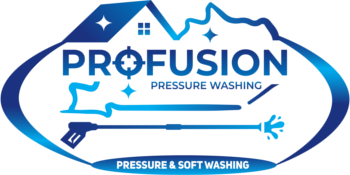 At Profusion, we understand the importance of protecting your investments. Especially your home, and with our Annual Agreement we can take care of any need you may have. Whether that's House Washing, Gutter Cleaning, Roof Cleaning, Driveway Cleaning, or Fence and Deck Cleaning we have you covered year-round. We offer any and every service on our Annual Agreement however some of our most popular include Bi-Annual Gutter Cleaning, and Annual House Washing which we typically bundle together for our customers which can lead to a savings of up to 25% off normal ticket pricing. You can read more on why these two things are important to take care of annually on our How Often Should You Get Your Gutters Cleaned? Why Regular Maintenance Is Important blog.
Benefits of Becoming an Annual Customer
Your home's value will increase with the care and maintenance our company can provide, from ensuring it's clean and functioning properly.
You will never have to worry about the upkeep of your home's exterior as we can cater to any need you may have, with customizable plans.
Save up to 25% annually
No obligation agreement
24/7 Emergency services free of charge*
Boost your home's curb appeal, boosting its value with it.
Avoid hefty contracting fees due to lack of maintenance.
You can get more information about our Annual Agreement by calling 859-212-9181 or filling out our online request form.
*24/7 emergency services are limited to availability and service required.