A Thorough Deck Cleaning Will Keep Your Lexington Outdoor Living Spaces Looking Their Best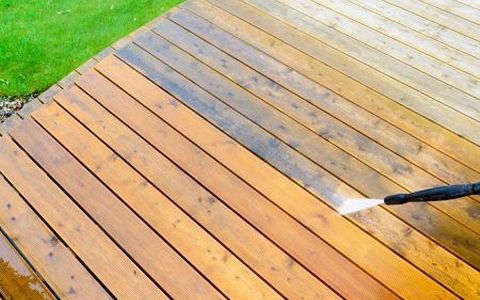 Profusion Pressure Washing is proud to be the go-to pressure washing specialist of deck cleaning in the Lexington area. At Profusion, we understand a deck can be much more than a pile of lumbar. A deck can be a place of memories. Whether it's barbecues or neighborhood block parties, we understand the joys and experiences that the deck can bring. Yet, we also know that all those block parties and barbecues quickly add up, leaving you with a deck filled with dirt and stains. However, a proper deck cleaning from Profusion will have your deck looking new as ever just in time for the next family get-together!
Having an adequate deck cleaning routine is crucial to the longevity of your deck. Over time, mold, mildew, and dirt can accumulate on your deck, slowing starting to deteriorate your deck's surface. Power washing and sealing reverse that by giving your deck a heavy-duty cleaning, while dramatically increasing its lifespan.
Cleaning your deck might sound like an easy enough task to take up on your own, but it is always best to hire a professional for deck cleaning, fence cleaning, or other pressure washing needs. If deck cleaning is done incorrectly, the pressure washer can easily cause permanent damage to your wood and ruin cookouts forever. We know this sounds like a lot of work but hiring someone to regularly clean and seal your deck is a lot less expensive and time-consuming than replacing the deck entirely. Luckily, that's where we come in.
Profusion Pressure Washing only uses the best equipment, and we have engineered our cleaning solutions to make deck cleaning a breeze, ensuring that your deck stays in tip-top shape. Aside from increasing your deck's lifespan, there are other pros to deck cleaning as well, such as:
Maintaining Deck Safety
Maintaining the Deck's Beauty
Increasing Your Property Value
It's time to start thinking about your deck's future. Call the pressure-washing specialists here at Profusion to make that future just a bit brighter.