Lexington's Leader in Pressure Washing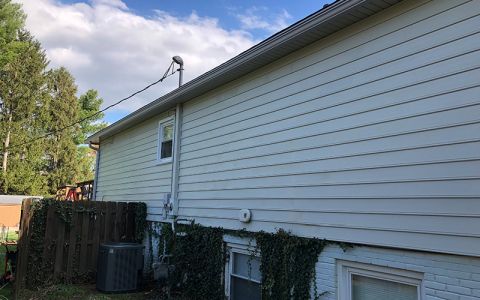 When it comes to Lexington pressure washing, Profusion Pressure Washing is the best company in town. We're a small business founded in 2019, but since then, we have amassed a dedicated following due to our tenacity and quality customer service.
Although this company was founded less than a year ago, our founder Jeff Rockwell initially started pressure washing three years ago for his neighbors and close friends. Soon, Mr. Rockwell's work caught the attention of other potential clients, and he moved his business to the great city of Lexington and the surrounding areas. He and his company have been growing and making a mark for themselves in this business ever since.
Profusion Pressure Washing succeeds because our company is dedicated to the quality of work that we put out, and we are committed to our clientele and their homes and families. If you own a home or business in Lexington and are looking for a power-washing company that gives you quality guaranteed while also listening to your needs, Profusion is the place for you.
Maintain Your Home with Profusion
We are proud to provide our services to the city of Lexington. At Profusion, we offer pressure washing and soft washing to assist the Lexington community in maintaining, enhancing, and protecting their home's exterior surfaces. Our services include:
Roof Cleaning
Driveway Cleaning
Sidewalk Cleaning
Deck Cleaning
Fence Cleaning
We are confident that we can help you with all of your pressure and soft washing needs. Profusion Pressure Washing offers a one-of-a-kind cleaning solution that we handcrafted to ensure that it is safe for your home and family.
We always try to beat expectations and go the extra mile for our clients. This is why we never use cleansers that would contaminate or damage your exterior. We also don't use power washing tools in conjunction with harsh chemicals of any kind because we know the damage that it can do to your property and your health.
The process of getting your home pressure washed can be stressful enough, and we don't want to add to it. We are trained licensed professionals that have you and your home's best interest in mind.
How Soft Washing can Keep The City of Lexington Looking Beautiful
As mentioned, Profusion Pressure Washing prides itself on providing our customers with the best materials and techniques for the services that they request. To ensure we provide our customers with the safest pressure washing experience, we also specialize in soft washing techniques. Soft washing, like Profusion, is relatively new to the pressure washing world, but we have both made a name for ourselves in this industry because we get the job done efficiently and effectively. Soft washing is used when cleaning surfaces such as:
Roofing
Windows
Wood Decks
Fences
Wooden Sidings
Stucco
Soft washing uses a cleaning solution combined with low-pressure techniques to clean your exterior surfaces safely and effectively. Soft washing also prevents any risk that regular pressure washing poses to shingles and plants.
If you notice that your home needs some sprucing up, make sure that you call a professional to handle it. Lucky for you, we know one in town. Call us today for an estimate or schedule an appointment today with Lexington's go-to pressure washing pro's, Profusion Pressure Washing.
---
Latest Projects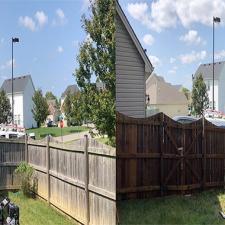 This client in Lexington, KY, called us out to estimate staining their fence. Upon arrival, we noticed the fence was extremely weathered and gray, which indicated that the pores of the wood were infe […]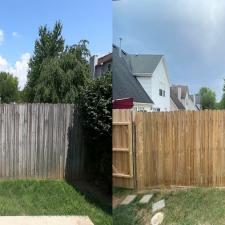 Our client called us out to prep their fence to be stained and sealed. This would entail us sanitizing their fence, killing any algae, mold, or mildew growing on the surface, infesting the wood's por […]