Your Local Pressure Washing Company in Nicholasville, KY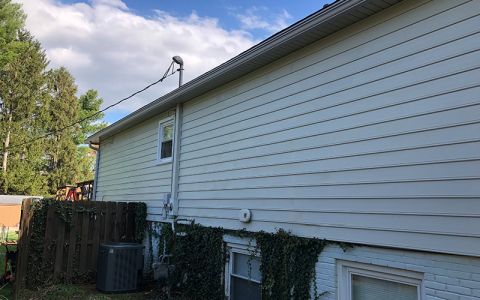 Profusion Pressure Washing is the leading pressure washing company in Nicholasville, KY. Profusion Pressure Washing goes the extra mile for all of our clientele to ensure that they are satisfied.
Our company was founded in 2019 by Jeff Rowell. Profusion started at very humble beginnings with Mr. Rowell only initially cleaning neighbor's homes. However, that soon changed. More people began approaching Mr. Rowell because of his excellent work and his infectious spirit. Soon he was able to acquire a large customer base, and Profusion Pressure Washing began.
At Profusion Pressure Washing, we understand the value of hard work; we were founded on it. So, we do not doubt our abilities to provide you with exceptional service that will cause your home to be the envy of everyone on the block. If you're ready to start your pressure washing experience, call or schedule an appointment with your local Nicholasville pressure-washing pros.
Soft Washing to Beautify Your Nicholasville Home
If you have ever tried to accomplish pressure washing on your own, you might have realized that some pressure washing machines are extremely powerful. If you're not careful, those machines could damage your brick, wood, windows, and rooftop if done incorrectly. Due to these risks, Profusion Pressure Washing has employed soft washing techniques to ensure we offer a superior clean while also keeping your home intact.
We use soft washing services when conducting roof cleanings, house cleanings, fence cleanings, etc. This cleaning technique is becoming more mainstream because it offers numerous benefits. Some include:
Better For the Environment
Safer For Your Family
Saves Money
Cleaner End Product
Prevent Damages and Repairs
Eliminates Substances at a Molecular Level
Traditional pressure washing is still practiced, but it isn't designed to be used on every surface. Soft washing prevents any damage and ultimately takes the risk out of pressure washing. If you want to try out soft washing, call us! We would be happy to keep your home clean and add you to the Profusion family here in Nicholasville.
Pressure Washing to Protect Your Home and Nicholasville Residents
As mentioned before, pressure washing is still an essential aspect of house cleaning. Pressure washing improves your curb appeal, increases your property value, and increases your home's lifespan. It's a significant investment. However, we don't recommend that you take on this project yourself. Pressure washing can cause a lot of damages, and there is no reason for you to experience that when you could call your local professionals.
Calling Profusion Pressure Washing for all of your pressure washing needs eliminates the threat of property damage, but it also removes the possibility of you injuring yourself or someone else. All in all, it is best to let trained experts take on the pressure washing jobs to eliminate any accidents or grievances. If you're ready to start your pressure washing journey, call your Nicholasville pressure washing specialist here at Profusion Pressure Washing to get started!