Instantly Improve Your Curb Appeal With House Washing In Lexington
Profusion Pressure Washing is a reputable resource for house washing in Lexington. We've worked for three hard years to earn our reputation as the local pressure washing pros in the Kentucky area, and we work hard to maintain that title. We are proud to be the go-to company in the Lexington area, and we are going to continue to service the community with any needs that they may have.
One of the critical responsibilities that come with owning a home is keeping up with the maintenance. First impressions are essential. The exterior of your home is the first thing people see when they arrive, but it is also the last thing they see when they leave. Profusion Pressure Washing understands the anxiety that can bring, primarily if you've never invested in house washing before. But don't fret! We are here to make sure your house is in tip-top shape for all surprise visits!
Although many people try to take a DIY approach, it is best to hire a professional when trying to improve your home. Hiring a professional for house washing, roof cleaning, and any other needs guarantee that the right techniques will be used while ensuring that your house doesn't receive any damage. Professionals know when power washing is acceptable, and they know when it is better to use a soft washing approach. With the help of a professional, you can ensure that you are using the correct methods when cleaning the numerous materials around your home. Exterior cleaning also comes with endless benefits such as:
Curb Appeal
Avoiding Leaks
Improving Safety
Preventing Decay
We know that house washing may seem like a lot, and you may think that you can't do it. However, we want you to let our team handle the pressures of pressure washing for you. As trained professions, we will take care of all the essential tasks, and all you would have to do is enjoy a clean house.
---
Latest Projects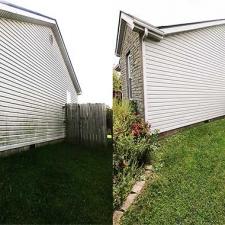 This client in Versailles, KY, called us out initially to diagnose what was growing on the side of their house. Upon arrival, we saw they had multiple layers of green algae spreading across their hom […]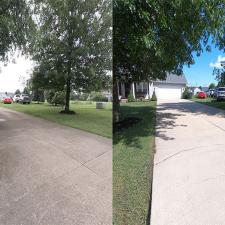 This customer called us for a quote on a driveway cleaning. While we were out giving the estimate we saw that the north side of their home was infested with algae, mildew, and mold! We offered to cle […]