Fence Cleaning on Sugarbush Trail in Lexington, KY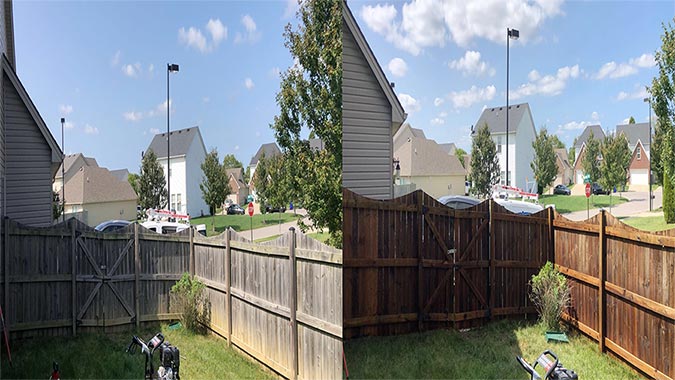 This client in Lexington, KY, called us out to estimate staining their fence. Upon arrival, we noticed the fence was extremely weathered and gray, which indicated that the pores of the wood were infested with pests such as black mold, algae, and mildew.
At this point, we informed the customer in order to stain their fence, we needed to thoroughly sanitize and clean the fence before the wood's pores would be ready to accept and absorb the stain, as it was at that time, the pores were clogged and would not have been able to take any stain or sealant.
Once we arrived on the job site, we utilized our SOFT WASHING process to ensure that no further damage would come to the client's property while performing the fence cleaning. It was a low-pressure (sub 100 PSI) cleaning agent application, let dwell for some time while misting the wood to keep the wood saturated, while the agent brought all of the pests to the surface, killed them, which is when we broke out our pressure washer (sub 2,000 PSI safe for wooden surfaces) and merely rinsed all the pests out of the pores of the wood leaving a completely stunning finish compared to when we started.
Estimated Budget: $750-$1000
Fence Cleaning
Soft Washing
Fence Cleaning Project Photos