House Wash and Driveway Cleaning on Powhatan Trail in Versailles, KY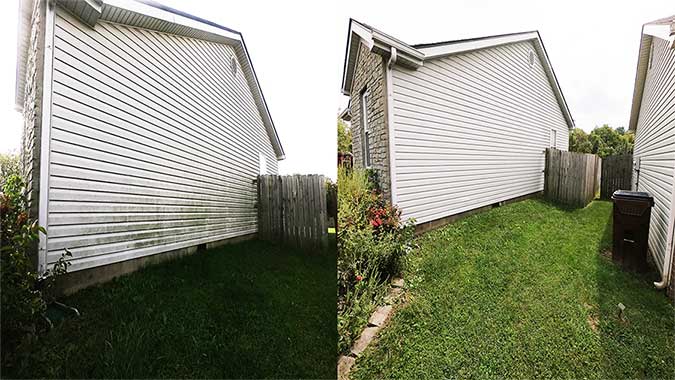 This client in Versailles, KY, called us out initially to diagnose what was growing on the side of their house. Upon arrival, we saw they had multiple layers of green algae spreading across their home's northern wall. Once the customer was informed of this, we explained that we can take care of their problem with our soft washing process.
Our soft washing process involves sub 100 PSI, something you would get out of your garden hose, perhaps even less in which we apply our cleaning agent. At that point, we let it sit on the surface and do its job. Our agent kills all organic growth on the problem area, and brings the cells to the surface, which we can rinse away with water, also applied at low pressure, leaving no room for error when it comes to protecting your property. We also informed the customer they had something very similar growing on their concrete, so we went ahead and cleaned that for them as well while we were out there.
Estimated Budget: $250-$300
House Washing
Soft Washing
Driveway cleaning
Pressure Washing
House Wash Project Photos