Complete Fence Cleaning & Brightening on Green Park Ct in Lexington, KY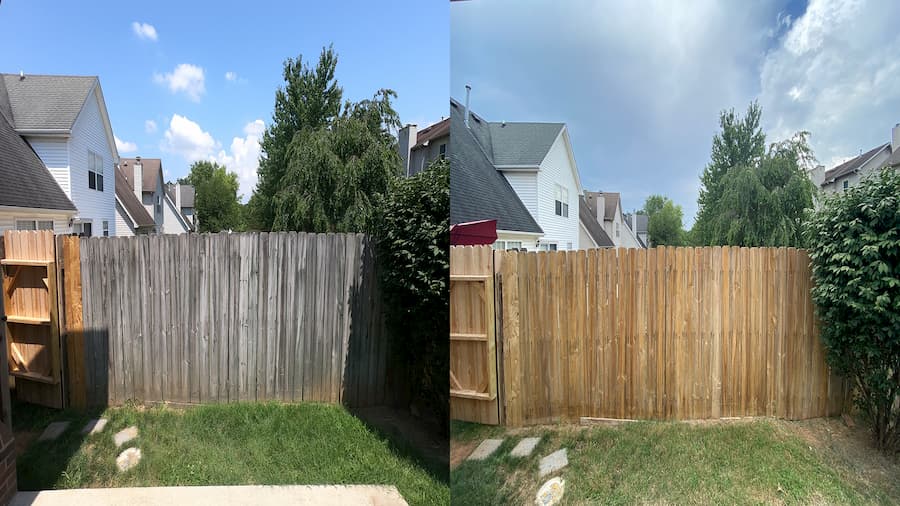 Our client called us out to prep their fence to be stained and sealed. This would entail us sanitizing their fence, killing any algae, mold, or mildew growing on the surface, infesting the wood's pores. Upon arrival on the property we noticed that their fence was in fact completely infested with algae, mold, and mildew. We got straight to work, first by wetting the substrate to prep the surface for contact with our proprietary wood cleaning solution. Upon application with our low pressure soft washing method, in order to keep the nature of the wood and the customers property healthy, we let it sit and soak into the wood for a total of 15 minutes to do its work. Upon completion of the dwell time, we took our pressure washer @ 1,200 PSI (something you could get out of your garden hose) and rinsed the wood down, clearing all of the dead cells off of the wood, clearing the wood's pores. At that point we applied our F-9 wood brightener, an industrial wood brightener use by the world's most prestigious wood restoration experts like ourselves here at Profusion Pressure Washing. We let that sit on there for another 15 minutes, applied with our low pressure soft washing process. Once that was complete we gave the wood one more good rinse with a garden hose, leaving this beautifully completely sanitized end product.
Over the course of the next week, our wood brightener is going to do more than just bring the wood back to it's natural color, it's also going to neutralize any acidic solution remaining on the surface, and also open up the wood's pores. What this is going to allow the homeowner to do, is be able to have the stain that they select to be able to be absorbed deeply into the wood, allowing for a beautiful long lasting stain, which they couldn't have done without our services. After that the customer will seal the wood and have it looking in tip-top shape for years to come.
Estimated Budget: $300-400
Wood Restoration
Soft Washing
Fence Cleaning Project Photos