Complete Deck Cleaning & Restoration on Pepperhill Circle, Lexington, KY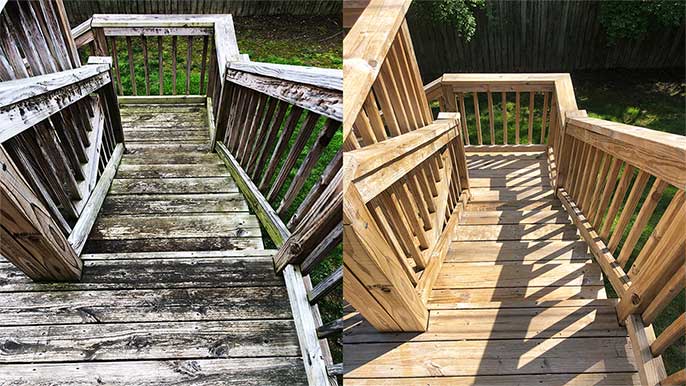 This customer initially called to clean up their property to put their house on the market and sell it. They informed me they had no luck selling it a year or two ago and were hoping our restoration services could help.
When we arrived to do the estimate, we noticed their deck was completely overrun with algae, mold, and mildew. We also were requested to restore and clean their driveway. We noticed that it was also infested with years of algae, mold, and mildew buildup. We urged the customer that it is essential to take care of these problems now rather than later. Not only to help sell the house but also to preserve their property and money later down the road. If they kept letting the buildup continue within a few months, we would have seen their wood deteriorate to the point of no return, a complete replacement entirely which would have cost them THOUSANDS.
We immediately got to work, applying our detergent to their deck via our soft washing service to begin the deck cleaning process. We utilized low pressure (sub-2000 PSI safe for wood) on their deck to wash the pests out of the wood's pores after our environmentally friendly detergent brought it to the surface. We spent around 6 hours on the deck, giving it some TLC to bring it back to life.
Contact Profusion Pressure Washing today for all your pressure washing needs.
Estimated Budget: $400-$600
Deck Cleaning
Soft Washing
Fence Cleaning Project Photos