Full House Washing on Sheeley Woods Rd in Nicholasville, KY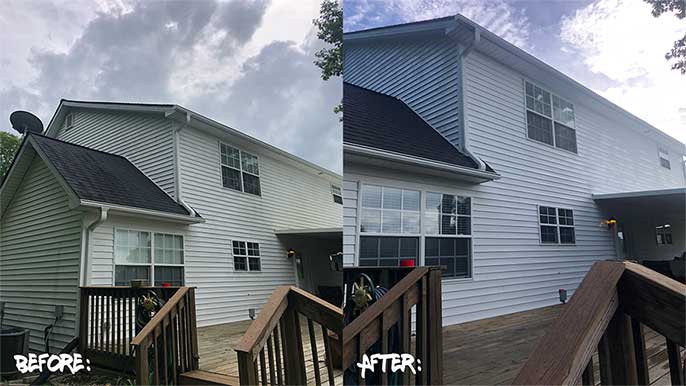 We initially got contacted off of Google with information that they needed a house wash. They had multiple hard-to-reach high places around their home, some being over three stories tall.
When we arrived, we noticed their home was covered in algae, mold, and mildew from years of buildup. A lot of these places were hard for them to reach themselves as they were an elderly couple. For us, however, it was no problem. They had an awning that was in dire need of a cleaning which was over a story tall. They also had multiple walls of their house being 3+ stories tall, all covered with algae, etc.
At first, they wanted us to do only one side of the home and leave the rest. We professionally advised against this as leaving those contaminants on your home will only cause extensive damages long term and a huge headache. They happily agreed to have the rest of the house washed, knowing we had their best interest at heart.
After applying our soap solution to each side of their home, at very low pressure (soft washing), we covered each wall and let our soap sit and go to work while finishing up their awning! After our dwell time was up, we carefully rinsed each side of their home, including the awning, until all soap and contaminants were flushed out and off their home and property! As you can see, the project turned out beautifully.
Contact Profusion Pressure Washing today for all your pressure washing needs.
Estimated Budget: $300-$500
House Washing
Soft Washing
House Washing Project Photos