House Washing in Lexington, KY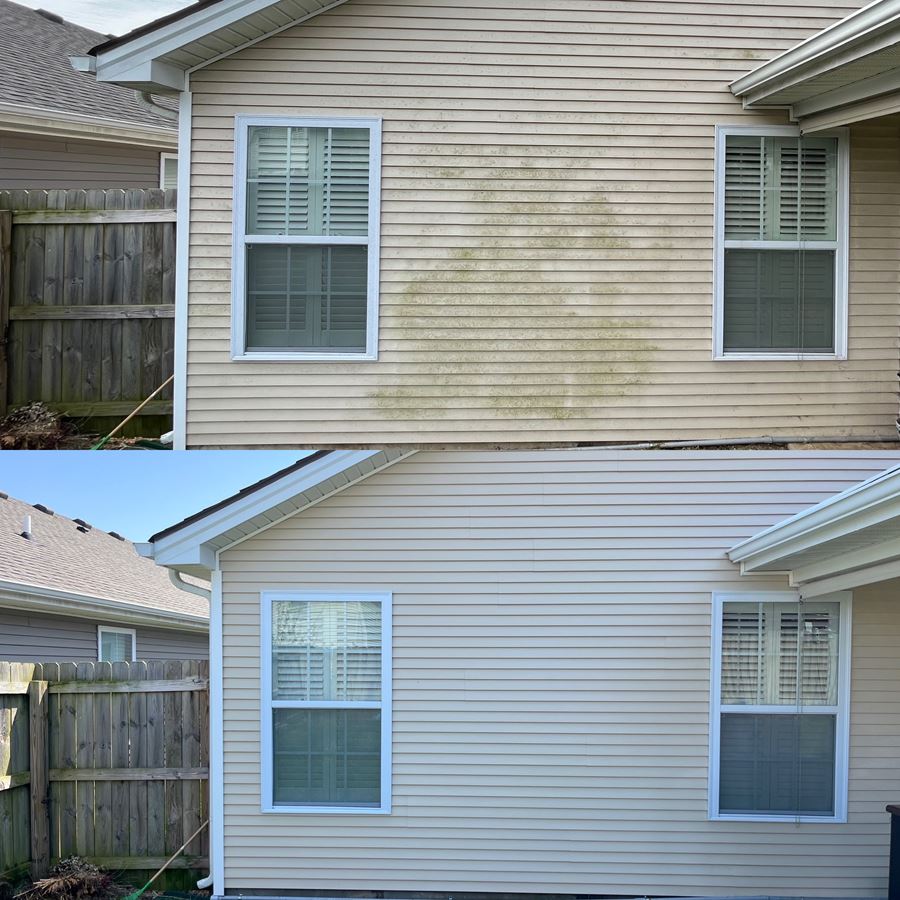 This house hadn't been cleaned in a few years according to the homeowner. After awhile, the algae, mold, and mildew start to accumulate and grow on the siding. Clogging the weep holes and preventing proper drainage from behind the siding which can lead to bacteria growth behind said siding.
After we arrived on the property, we started by pre-wetting all 4 walls of the house. As with the standard House Washing package, we include all siding, gutter faces, soffits, fascia, downspouts and any outcroppings such as patio/porch entryways. So it is necessary to pre-wet everything, just as you would pre-wet dishes to be hand-washed.
After this, we applied our premium algaecide coupled with water and surfactant by Soft Washing the home. We then applied to each side of the home, ensuring none of our solution dried on the surface. We had to let it dwell for 20-30 minutes while the solution did it's work on all the organic growth and dirt on the home.
Once the proper dwell time was achieved we started to rinse, with the siding, to ensure no water was pushed behind the overlapping areas. This was done with a pressure washer on a low-setting of around 200-300 PSI, to ensure no damage would come to the home. After we rinsed the siding, gutters faces, soffits, downspouts, and fascia on one side, we proceeded to the next repeating this process until each side of the home had been treated with our Soft Washing solution, and rinsed thoroughly and properly. Leaving behind a seamless clean by House Washing.
Project Details
Photo Gallery