Complete House Washing on Midland Avenue, Richmond, KY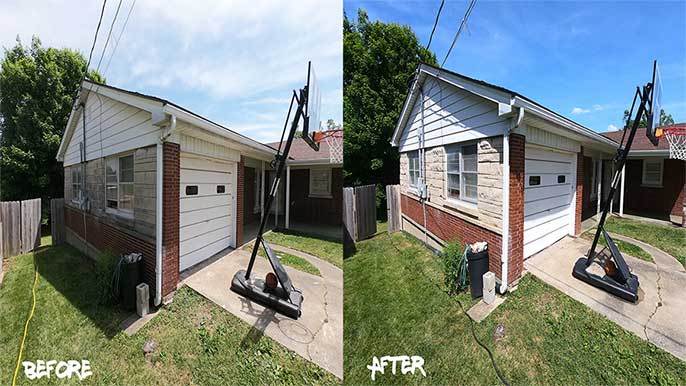 The customer initially found us on Google and filled out our request form for a free no-obligation quote.
The customer had input they needed a house washing to prep for selling their home. When we initially showed up, we could see a lot of their gutters and rock walls were covered in mold and mildew, so we were glad they gave us a call when they did. Not only to protect the integrity of their home but also to boost their curb appeal to sell their home soon after.
We applied our soap at a very low pressure using our soft washing technique and let the soap dwell on the surface for around 10-15 minutes. After our dwell time, we could see the soap did its job and removed all the organic material from their home's exterior walls. We did this around their whole house and ended up with excellent results. Thankfully the homeowner chose not to use their own pressure washer to clean those contaminants off. If they would have applied high pressure to their home's walls, they would have possibly damaged their home, costing them hundreds of dollars in repairs to sell their property.
Contact Profusion Pressure Washing today for all your pressure washing needs.
Estimated Budget: $300-$500
House Washing
Soft Washing
House Washing Project Photos