Pressure Washing Project on Old Dobbin Cir, Lexington
---
This project was a Full Concrete, Tile, and Driveway Cleaning using both Soft and Pressure Washing techniques.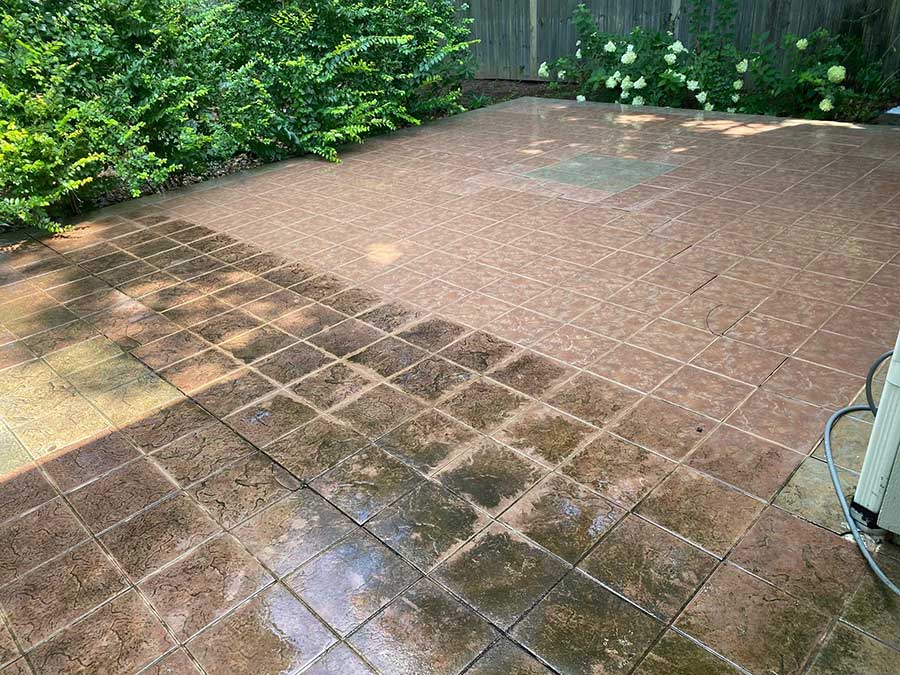 This consumer initially reached out to me to remove the slick algae, mold, and mildew from his patio. When it rained, his patio turned into a slip & fall hazard, making him not feel safe in his own home. Upon further inspection, I could tell his patio, concrete, and driveway were infested with algae, and mold so we got him on the schedule instantly to resolve his issues.
Upon arrival on the appointment date, we started by applying our soap soft wash to his tile porch, concrete basketball court, and driveway. After letting our soap do its magic, we started rinsing off the tile in a way that would not damage or chip the substrate as the tile is very brittle and fragile. We were utilizing pressure that you would get out of a garden hose to rinse the soap off, leaving behind a completely clean, disinfected, and non-slippery tile porch.
As for the concrete basketball court and driveway, we started to use our surface cleaner after our soap had dwelled for the proper time and done its work. This is where high pressure can shine from a pressure washer. As you can tell from the before and after pictures, it took up all the remaining dirt leaving behind like-new concrete.
We even pressure washed their retaining wall, as you can see from the before and after pics. This was infested with moss, not just algae and mold. We had to take our turbo tip after soft washing it first to blast off the roots of the dead moss. Leaving behind a super-clean retaining wall.
Estimated Budget: $800-$1,000
Pressure Washing
Soft Washing
patio Cleaning
Retaining Wall Cleaning
Pressure Washing Project Photos